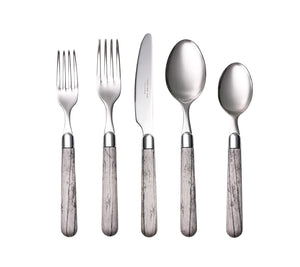 Wood Grain 5-Piece Place Setting in Gray & Silver
Made in Italy, this versatile, stainless steel flatware set complements every table. This modern and elegant set is classic and easy to clean. Dishwasher safe.
COLOR: GRAY/SILVER
DIMENSIONS:
Dinner Fork: 1" wide x 8.5" long
Salad Fork: 1" wide x 7.6" long
Soup Spoon: 1.75" wide x 8.5" long
Dessert Spoon: 1.5" wide x 7" long
Knife: 0.75" wide x 9.25" long
WEIGHT: 1lbs
MATERIALS: 60% 18/10 Stainless Steel, 40% Polyester
CARE: 1. Our flatware is dishwasher safe at medium low-temperatures of 150°F on gentle cycle. Avoid any dishwashing liquid that contains chlorine, citric acid, lemon scents or abrasive ingredients. 2. Wash the flatware immediately after use; a prolonged contact with salt, vinegar, eggs, tomato sauce, acid fruits, high calcareous water, can cause staining and corroding. 3. Load flatware in the washing rack pointing downwards. 4. Load knives and flatware separately. Blades have a high carbon content. It assures a sharp cutting edge, but it is also more subject to corrosion. 5. Do not leave flatware in damp condition, this could cause damages or staining. 6. For longevity of the flatware, dry immediately after the end of washing cycle. 7. Superficial stains can be easily removed with a soft cloth. 8. Wash stainless steel flatware separately from silver plated flatware.